Popular WordPress learning management system (LMS) plugin LearnDash. Delivering instructional information, keeping track of student progress, and creating and managing online courses are all made possible. The construction of exciting and dynamic e-learning experiences is made possible by several features and tools offered by LearnDash.
You may add infinite classes and subjects, quiz your students, assign homework, and more with its assistance. It has built-in capabilities to collect one-time or ongoing access fees and complex features like content dripping course prerequisites, and other features.
Overall, it's unquestionably among the best WordPress LMS plugin solutions. Additionally, we'll examine LearnDash in-depth in our hands-on review to help you determine if it's the perfect plugin for you.
Here are some key features and capabilities of LearnDash:
Course Creation

: LearnDash allows you to create and organize courses with lessons, topics, quizzes, assignments, and more. You can structure your course content in a logical manner and easily update or modify it as needed.

Content Drip

: With LearnDash, you can schedule the release of course content over time. This feature is useful when you want to deliver content in a sequential manner, such as releasing new lessons or modules on a weekly basis.

Quizzing and Assessments

: LearnDash provides a robust quiz engine that allows you to create various quizzes, including multiple-choice, true/false, and open-ended questions. You can set passing grades, provide feedback, and track learner performance.

Gamification:

Gamification elements like badges, points, and certificates can be added to your courses to increase learner engagement and motivation. LearnDash supports the integration of popular gamification plugins to enhance the learning experience.

Discussion Forums: LearnDash offers built-in discussion forums for each course, enabling learners to interact with each other, ask questions, and discuss course-related topics. This feature promotes collaboration and community building within your online learning environment.

User Management

: LearnDash provides tools for managing user enrollments, access levels, and user progress. You can define different user roles, set prerequisites for course enrollment, and generate detailed reports to track learner performance.

Integration and Compatibility: LearnDash integrates with various third-party plugins, payment gateways, and email marketing services. It is compatible with popular WordPress themes and supports various multimedia formats for content delivery.
Mobile and Responsive: LearnDash is designed to be mobile-friendly and responsive, ensuring that your course content can be accessed and consumed on different devices, including smartphones and tablets.
Pros and cons of LearnDash
LearnDash Pros
Easy-to-use Drag & Drop Builder
The course builder was demonstrated to you in the tutorial, but it merits mentioning one more because it is such a helpful tool.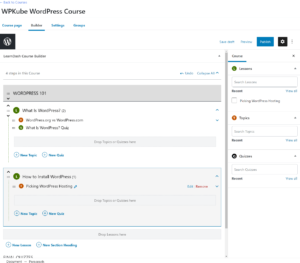 It can be challenging to see how everything fits together and the development your students will take as they continue through the course when there are numerous lessons, subjects, and tests.
The course builder interface makes it simple to see how everything fits and enables simple drag-and-drop alterations.
Additionally, because you can quickly launch the editors for every course content from a single location, course creation often goes faster.
Support for Detailed Video Content
Nowadays, there is a great demand for video course content, so it is essential that LearnDash has unique tools for handling video content.
You can add a video preview to your course as well as built-in options to add videos to lessons and topics.
Additionally, you can mandate that students watch a video as part of the curriculum and even have a video start or stop automatically when a student opens a lesson
Of all the LMS plugins I've used, LearnDash has one of the more effective quiz creators. It works pretty much the same as the drag-and-drop course builder, which I've already mentioned as one of my favourites.
The ability to set up all of your questions and answers without having to launch a different interface or popup is what I truly appreciate, though. This speeds up the process and enables you to observe how everything comes together from a single point of view.
Additionally, there are a tonne of questions and settings available to you, including numerous possibilities for configuring complex quiz features like passing scores, randomization, timeframes, and more: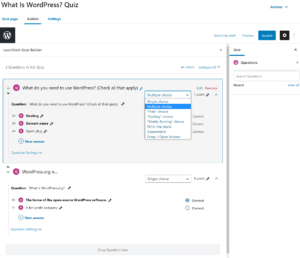 Advanced Features (Prerequisites, Drip Content, etc.)
Simply put, LearnDash offers several versatile capabilities for customising the behaviour of your courses.
You may "drip" out the course material, for instance, to keep your pupils interested and returning. You can either utilise a fixed schedule for all students or release the content according to a schedule based on the user's enrolment date: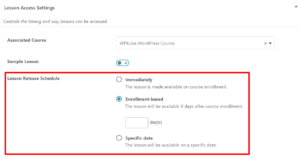 Additionally, you can demand that customers complete one or more course prerequisites before they can sign up for a course: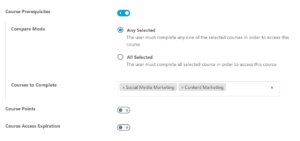 Overall, it's fairly flexible in terms of how you put up your courses.
The market for Third-Party Extensions is thriving
LearnDash has a thriving third-party marketplace in addition to the many official extensions and integration plugins, making it incredibly simple to add new features to your course. For instance, among the several third-party extensions available are:
Reviews and ratings of courses

several teachers (similar to Udemy)

construction of front-end courses 

private messaging

Upsells and custom course checkouts…
The most popular third-party plugins are listed on LearnDash's support page.
LearnDash Cons
Limited Built-In Payment Options
Even though LearnDash comes with built-in tools for one-time and monthly payments, these features aren't as flexible as those you'd find with a full membership plugin or another LMS plugin like LifterLMS.
You cannot implement free trials or one-time signup costs, for instance. Additionally, you are not permitted to run promotions and coupons.
All of this can be done using a membership plugin or a third-party plugin like WooCommerce; it's just not a feature of the LearnDash plugin itself.
Limited Built-In Membership Options
As far as how they relate to your courses, LearnDash contains certain fundamental membership benefits. In other words, you can limit who has access to a course.
It does not, however, set up membership features for your entire site. For instance, using the basic LearnDash plugin would prevent you from restricting access to a regular page to only particular sorts of learners.
Fortunately, LearnDash integrates with almost all widely used WordPress membership plugins, making it simple to add more sophisticated membership features if necessary.
Final Reflections
In conclusion, LearnDash merits a seat among the top WordPress LMS plugins.
I believe LifterLMS is the only competitor that comes close in terms of sheer functionality. If all you need are basic courses, LifterLMS can be less expensive. However, LearnDash is typically far more cost-effective if you require intricate quiz functionality and other advanced features.
Because of this, I can recommend LearnDash with confidence to anyone wishing to use WordPress to develop online course content, whether they're a sole proprietor, an employer seeking an employee training programme, or a reputable academic institution.