Business executives still use paid acquisition for demand and lead generation since these channels directly impact the audience. Many organisations use outbound marketing to reach their audience more quickly, unlike inbound marketing, which takes longer to produce results.
The specifics of outbound marketing will be covered in this blog, along with how firms may use outbound marketing analytics to track, refine, and maximise their efforts.
Outbound marketing: What is it?
By actively spreading their word across various media, firms can connect with new clients with outbound marketing. Some of these channels are aimed at a broad audience, while others are directed at a specific demographic.    
With outbound marketing, you are able to be sure that your message has reached your target demographic and gauge their response right away. 
Which outbound marketing channels are the most widely used?
Businesses can utilise a variety of channels for their outbound marketing. To choose those channels correctly, you should know where your audience spends the majority of their time. These are the most well-liked outbound channels, and depending on your industry and target market, you can pick the most effective ones:    
Google advertisements

Advertisements on social media

ad videos

frozen emails

Activities and trade shows

Advertisements on radio and television
What is analytics for outbound marketing?
Analysing outbound data, drawing essential conclusions from it, and refining tactics are all parts of outbound marketing analytics.    
Marketers employ a variety of outbound channels to connect with their target audience but often struggle to measure the ROI of their time and money. That is no longer a problem thanks to marketing analytics. 
Marketers now have the possibility to combine outbound data from various marketing technologies, visually represent it, and generate insightful statistics on the effectiveness of advertisements, conversion rates, customer engagement, and, most crucially, ROI. With business intelligence tools like Zoho Analytics, you can accomplish all of this and more.   
Refer to our earlier blog about inbound marketing to learn more about it and how to maximise your marketing efforts.
Analytics for outbound marketing with Zoho Analytics
Despite the fact that each marketing tool used for outbound operations offers data that is unique to the campaign, marketers still require assistance in gaining a comprehensive picture. It will take a long time to analyse all of the data, and manual data import is not an option.
You can use Zoho Analytics to automatically import all of your outgoing data from the marketing tools you employ and combine it with other data to evaluate the overall effectiveness of the products. Important capabilities including data blending, various data visualisation options, and augmented analysis using artificial intelligence and machine learning are all included in Zoho Analytics.
You may build a thorough outbound marketing dashboard to get the most out of Zoho Analytics. You'll gain a clear understanding of how well your outbound activities are performing, be able to identify your top channels using both standard and bespoke data, and increase performance.
Dashboards for external marketing
The main objective of a dashboard is to analyse all pertinent data in one location, saving you time and effort.    
Whatever paid acquisition methods you choose, you may connect your marketing software or just import the data you already have. Following a successful connection, Zoho Analytics will automatically generate more than 100 valuable reports and dashboards based on your data. Additionally, you may use your data to create various reports and dashboards.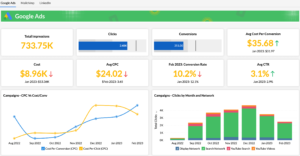 Once all of your data is synchronised and the required visualisations have been made, it will only be a matter of time before you can begin to derive insights. Find trends and patterns in these reports to gauge the success of your campaign and develop key performance indicator (KPI) widgets to monitor important metrics.
This is a sample of a dashboard we developed for outbound marketing. We linked Mailchimp for cold emails, LinkedIn for social media ads, and Google Ads for paid search.
Without navigating between apps, this dashboard enables you to receive a bird's-eye view of the performance of your outbound activities. You may monitor the effectiveness of your efforts across various marketing platforms by periodically reviewing the dashboard.
Based on conversion rates, ROI percentages, and engagement, you can determine which marketing channel is doing better with the help of this dashboard. To improve your plans, you may also analyse each marketing channel separately.
Bonus: A KPI dashboard for outbound marketing
You should monitor the performance of paid acquisition channels in real time because they demand cost per impression and cost per click. When you're on the go, it's impossible to monitor every available metric. With a KPI dashboard, you may monitor only the most important metrics to stay up to date.
You may get the crucial indicators you require to keep yourself informed by building a KPI dashboard for outbound marketing. Here is an illustration of an outbound marketing KPI dashboard with key KPIs.
Key KPIs for all paid marketing channels can be accessed through this dashboard's design. This dashboard can be monitored at predetermined times. The additional option will then take you to the main dashboard in case you require additional details or detect a significant change in the data. From there, you may thoroughly analyse performance and optimise it for better results.
Use Zoho Analytics to evaluate and improve your outbound marketing activities.
Because you are paying for the acquisition, each impression and click is significant. Your campaigns will generate greater conversion and engagement the more insights you can get from the data and the more data-driven optimisation you apply to them.   
If one of your company's primary lead-generation techniques is outbound marketing, and you've been utilising various outbound solutions to publish and manage advertising, you must periodically measure and optimise them.