There's no doubting that the software as a service (SaaS) sector has become increasingly competitive. Today, partners all around the world are attempting to 'play their best' by seeking out ways to differentiate their cloud products and expand their business.
Opportunities for partners and resellers abound in the fast-growing cloud business. What better approach to growing your company than to build a strong cloud alliance? The Zoho Partner Program provides partners with limitless chances to alter your organisation in a variety of ways, and unlike some others, there is no cost to join us.
You want to get the most out of your collaboration with Zoho, whether you're an existing partner or considering doing so. I'm pleased to inform you that you've arrived at the correct location. Let us show you how to future-proof your company's offers and provide faultless client experiences by leveraging the Zoho Partner Program and the Zoho cloud.
 1)Create a routine
You can study and implement customised Zoho solutions for your clients as a certified Zoho consulting partner. You can train your customers, give ongoing support, and be their go-to person for all things Zoho as a Zoho partner.
2) Create unique solutions
Today's businesses desire unique apps that are adaptable to their specific requirements. You can build bespoke vertical solutions for specific clients on current Zoho platforms as a Platform partner and offer them on the Zoho Marketplace. Remember Zoho is not going to steal your thunder. Zoho Partners can sell under their own brand name and determine their own pricing margins.
3)Increase your revenue 
 A Zoho partner can profit at every point of the customer journey, from first engagement through post-implementation. Zoho Partners can also earn regular residual revenue, consultation fees, and implementation fees, among other things.
4)Make your technology work for you
Are you a technology company trying to expand your customer base? You may combine your solution with various Zoho products as a Technology partner to meet larger customer demands. They provide you with the developer tools, resources, and support you need to seamlessly integrate your solution. They also ensure that your product or service is visible on the Zoho Marketplace.
What are the main advantages?
Take a look at some of the key advantages of being a member of the Zoho Partner Network. Taking use of these major advantages can help you take your company to the next level.
a) Partner team: Zoho partner team is dedicated to assisting you in maximising our resources and continually improving your Zoho experience. Connect with them on the move if you have any questions or concerns about the partner programme or your relationship status.
b)Partner Portal: The Zoho Partner portal is a one-stop-shop for all partner tools to help you successfully sell, support, and manage subscriptions. Partners can also use the portal to track their revenues, map existing Zoho customers to their partner account, and upgrade, downgrade, or cancel client subscriptions.
Are you a Zoho Partner already?
In the top-right corner of the partner portal site, click the Sign-in tab.

Click the Sign-in button after entering your Zoho account details.

Click Verify after entering the unique Zoho verification code issued to your registered mobile number.

Below is a link to your Partner account dashboard.
c) Partner support: As you expand as a partner, their special partner support hotline is available 24 hours a day, 7 days a week to give you flexible, premium support suited to your organization's specific needs. Use the partner support form to submit your request for assistance. Click the Support link in the top-right corner of your dashboard to access the form. You may also send an email to partner-support@zohocorp.com with your assistance request.
d) Partner Store: Partner Store, a centralised tool that enables partners to trade with Zoho and securely manage their client orders and leads, is also available to Zoho Partners. All Zoho services, as well as our payment gateway tool, are simply integrated into the store.
  e) Product resources and support: For all 35+ Zoho products, get limitless, no-cost technical assistance and product resources. Expand your Zoho knowledge by accessing product-specific user guides, admin guides, FAQs, and price details from your Partner account.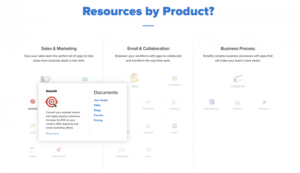 f) Online training: Zoho's broad on-demand training programmes, which include top-notch course modules, is designed to help you grow your Zoho knowledge and skills. Even better, you can learn whenever and in whatever fashion works best for you. Our precise course framework will show you the best method to sell and implement Zoho solutions, whether it's through video courses, training webinars, study materials, or presentations.
 h) Marketing resources: Their marketing resources page includes everything you need, including customer case studies, content support, branding kits, presentations, and videos. All of Zoho's marketing materials are now available in one place for partners. Use the search tab to find the resources you're looking for.
 Conclusion: Partnering with Zoho will provide you with the assistance, incentives, and direction you need to claim your piece of this golden market, whether you're looking to harness the cloud, grow your offerings, or engage more consumers. Check out their partner page to see which path is best for you and to join the industry's fastest-growing partner network.